Legendary US singer Ray Charles dies in California at age 73

"Music to me is just like breathing. I have to have it. It's part of me," Charles once told an interviewer of his rags to riches career.
~Ray Charles~

LOS ANGELES : Legendary musician Ray Charles, dubbed the "Genius of Soul" during an acclaimed six-decade career, died Thursday of liver disease at age 73, his publicist told AFP.

"Ray Charles was a true original, a musical genius and a friend and brother to me," said Joe Adams, his longtime manager and friend.

"He pioneered a new style and opened the door for many young performers to follow." Charles was born Ray Charles Robinson to a poor family in Albany in the southeastern state of Georgia on September 30, 1930.

After the blood disease glaucoma rendered him blind when he was seven, Charles was sent to a school for the deaf and blind in Florida, where his gift and lifelong passion for music emerged.

In the 1940s, the young pianist later made his way to the northwestern city of Seattle where he first performed as a solo act, modeling himself on the late legend Nat "King" Cole.

While there, he met a young Quincy Jones, the renowned music producer, and they became lifelong friends and musical collaborators.
You Sing It Ray , America The Beautiful!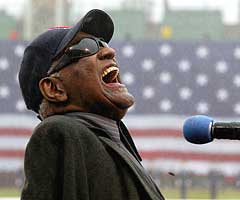 In the rain, Boston's Fenway Park, April 2003
Ray, You beat all the odds, and became a shinning star. You were truly one-of a-kind! I know you're shinning bright up there tonight! I grew up with your music and it has always brought a smile to my heart!
How do you say, "Good bye to one of the great ones? You don't, you just simply say, "God Speed, Till we meet again"!
I know God will grant you a special place up there to sing and play your music. No more dark glasses for you Ray, for now you have your heavenly body, which knows no bounds or limitations.
"Thanks for the memories, Ray, I'll never forget you or your music"
For, "Seven Spanish Angels Surly Took, Another Angel Home"!
Barbara J. Ervin-Weymouth
Sacramento, CA
June 10, 2004
Early Times.....
Mr. Ray Charles
Charles played in clubs around Seattle in the late 1940s as he developed his own singing and musical style and began recording, using his experiments in mixing various musical genres, in 1949.

In 1955 the experiments culminated in the release of "I Got a Woman" which mixed gospel tunes in with his nightclub sound.

"I was raised in the church and was around blues and would hear all these musicians on the jukeboxes and then I would go to revival meetings on Sunday morning," he once said.

A lot of people at the time thought it was sacrilegious but all I was doing was singing the way I felt. In the early sixties he branched into country music and kept expanding his repertoire.

Just before his death, Charles completed a duets album called "Genius Loves Company," that featured Norah Jones, BB King, Willie Nelson, country star Bonnie Raitt, Gladys Knight and crooner Johnny Mathis.

During his career, the recording industry honored him with 12 Grammy awards and a lifetime achievement award.

The charismatic musician is survived by 11 children, 20 grandchildren and five great grandchildren.

A memorial service will be held for Charles next week at the hugely popular African-American First African Methodist Episcopal (FAME) church in Los Angeles and will be buried at Inglewood Cemetery in the second largest US city. - AFP