A Sad Farewell to a great President,
Mr. Ronald Reagan
Thank you for the eight years you served as Commander and Chief of this great country, The United States Of America. And thank you for the eight years you served as Governor of our great golden state, California.
Because of your great love and dedication to our great country, you have left it a better place because you have lived, loved, laughed and served it well!
Your fond memory will live on in the heart of America with great pride, dignity, respect and a great sense of loss.
Our hats are off to a fine American, may God Bless and Keep You Mr. President, we salute you, and this one's for the Gipper! Go softly into the sunset, into the arms of your saviour and Lord.
God Bless America!
Barbara J. Ervin-Weymouth
Sacramento, California
June 5, 2004
I remember with great clarity my father's emotion when Nelle Reagan, my grandmother passed away. Until today I didn't understand the feeling of loss and pain which comes when a parent leaves you. For this reason I will not be making any public statements at this time.
I pray that as America reflects the passing of my Dad, they will remember a man of integrity, conviction and good humor that changed America and the world for the better. He would modestly say the credit goes to others, but I believe the credit is his.
What I will remember is a man that changed my life. He was always there for me when I needed him. He had a way of putting everything into perspective, and I believe that his determination and perseverance came from his relationship with the Lord. He played an important role in pointing me to God.
I am secure in the knowledge that he is with his Lord and Savior, Jesus Christ in heaven. The greatest gift my father ever gave me was the simple knowledge that I would see him in heaven one day.
Mr. Michael Reagan
Son of Ronald Reagan
Presidential Quotes:
"There is no question that we have failed to live up to the dreams of the founding fathers many times and in many places. Sometimes we do better than others. But all in all, the one thing we must be on guard against is thinking that because of this, the system has failed. The system has not failed. Some human beings have failed the system."
- June 21, 1973

"The work of volunteer groups throughout our country represents the very heart and soul of America. They have helped make this the most compassionate, generous, and humane society that ever existed on the face of this earth."
- Oct. 16, 1973

"We are the showcase of the future. And it is within our power to mold that future-this year and for decades to come. It can be as grand and as great as we make it. No crisis is beyond the capacity of our people to solve; no challenge too great."
- January 5, 1974

"In America, our origins matter less than our destination, and that is what democracy is all about." - August 17, 1992

"This country was founded and built by people with great dreams and the courage to take great risks."
- January 26, 1983

"I've learned in Washington, that that's the only place where sound travels faster than light."
- December 12, 1983

"I have never found anything that was as challenging or as fulfilling as being Governor of California. This has been the greatest experience of my life, maybe partly because I not only get to read the script, I help write it." - September 29, 1973

"Government must keep pace with the changing needs of our state and its people to be sure that government can fulfill its legitimate obligations."
- August 6, 1973

"I've always believed that a lot of the trouble in the world would disappear if we were talking to each other instead of about each other."
- April 11, 1984

"We in government should learn to look at our country with the eyes of the entrepreneur, seeing possibilities where others see only problems."
- January 26, 1985
"We have every right to dream heroic dreams. Those who say that we're in a time when there are no heroes, they just don't know where to look."
- January 20, 1981
"General Secretary Gorbachev, if you seek peace, if you seek prosperity for the Soviet Union and Eastern Europe, if you seek liberalization: Come here to this gate! Mr. Gorbachev, open this gate! Mr. Gorbachev, tear down this wall!"
- June 12, 1987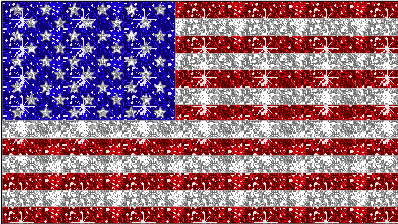 "It is up to us...to work together for progress and humanity so that our grandchildren, when they look back at us, can truly say that we not only preserved the flame of freedom, but cast its warmth and light further than those who came before us."
- 1982
"...peace is the highest aspiration of the American People. We will negotiate for it, sacrifice for it, we will never surrender for it, now or ever."
- January 20, 1981

Please click here to send a condolence to Mrs. Nancy Reagan
Please click here to sign the Legacy.com Guestbook for the Reagan family.
On June 11, 2004 as the sun sets in the west over the Simi Valley Presidential Library, family and friends gather to say their final farewells....
The Gospel of Matthew, 5:14-16, reads, "You are the light of the world, a city set on a hill cannot be hid," a passage that Reagan often quoted to project his view of America as a beacon of freedom and hope.
"Ron Reagan adopted me into his family in 1945. I was the chosen one. I was the lucky one," he said. "In all these years, he never mentioned that I was adopted either behind my back or in front of me. I was his son, Michael Edward Reagan."
~Michael Edward Reagan~
Michael Reagan also told of advice his father gave him when he decided to marry: "He sent me a letter about marriage and how important it was to be faithful to the woman you love. With a P.S.: 'You'll never get in trouble if you say I love you at least once a day.' I'm sure he told Nancy every day 'I love you.
~Michael Edward Reagan~
"He is home now. He is free," said his son, Ron Reagan Jr., recalling his father's 10-year struggle with Alzheimer's disease. "In his final letter to the American people, Dad wrote, 'I now begin the journey that will lead me into the sunset of my life.' This evening, he has arrived."
~Ronald Reagan, jr.~
Honest, compassionate, graceful, brave," said Ron Reagan, 46. "He was the most plainly decent man you could ever hope to meet."
~Ronald Reagan, jr.~
I don't know why Alzheimer's was allowed to steal so much of my father before releasing him into the arms of death," she told guests at the burial. "But I know that at his last moment, when he opened his eyes, eyes that had not opened for many, many days, and looked at my mother, he showed us that neither disease nor death can conquer love."
~Patti Davis Reagan~
His eyes, she wrote, hadn't opened for days when suddenly they did, looking straight at his wife. "If a death can be lovely, his was. The greatest gift you could have given me, my mother managed to say to him through tears, 'I love you,' through the towering beauty of that last moment."
~Patti Davis Reagan~

U.S. President in the making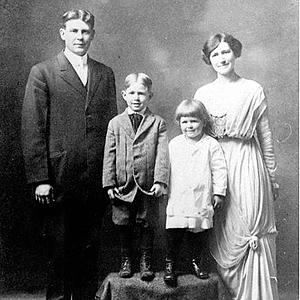 Ronald Reagan (standing by his mother)
Christmas Around The World, Simi Valley Library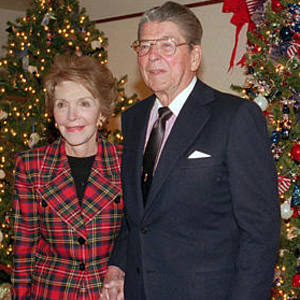 President & Mrs. Ronald Reagan
1987 White House Press Conference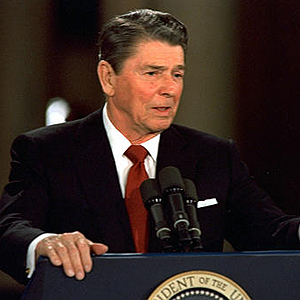 President Reagan responding to reporters
1984, Omaha Beach, Normandy, France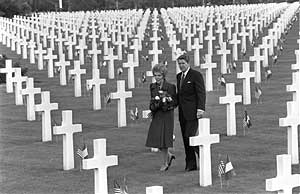 President and First Lady, Ronald Reagan
Happy 89th Birthday Kiss ~2000~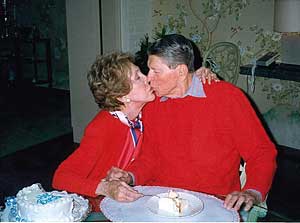 President and Mrs. Ronald Reagan
President and Mrs. Ronald Reagan 1980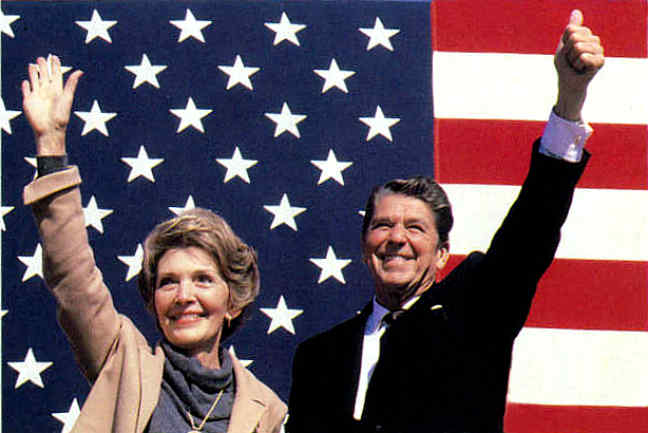 40th President
1976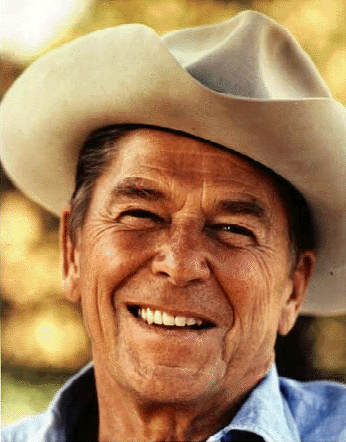 On His Ranch Enjoying Life
The Personal Side of Ronald Reagan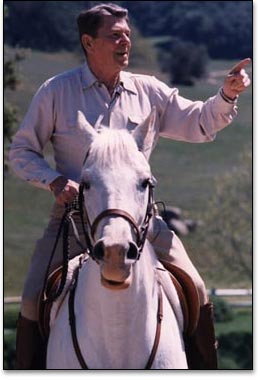 Enjoying his beloved, Rancho Del Cielo
Leaving Presidential Library for Washington DC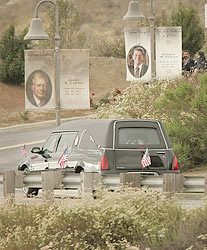 One last visit to the, "White House".
Gracious First Lady, Nancy Reagan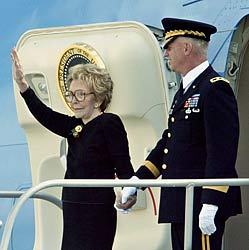 Accompanying her beloved husband to Washington, DC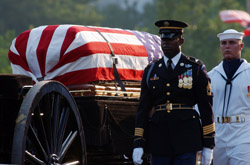 The casket of former President Reagan is carried on a caisson on the way to the U.S. Capitol
Happy Trails to you, till we meet again....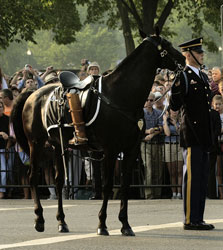 A riderless horse with boots turned backwards led forward during start of the funeral procession
Sunset Internment Ceremony, Simi Valley, CA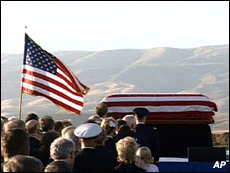 Rest in Peace.....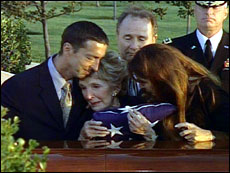 Beloved Husband and Father
"We've had an extraordinary life ... but the other side of the coin is that it makes it harder," she wrote in "I Love You, Ronnie." "There are so many memories that I can no longer share, which makes it very difficult. When it comes right down to it, you're in it alone. Each day is different, and you get up, put one foot in front of the other, and go and love; just love."
~Nancy Reagan~



Ronald & Nancy beautiful Day to go sailing....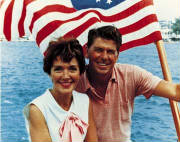 This one is one of my favorites.....